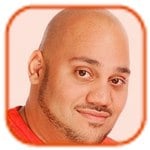 Posted by Andru Edwards Categories: Social Networking, New Apps, Reviews, Free Apps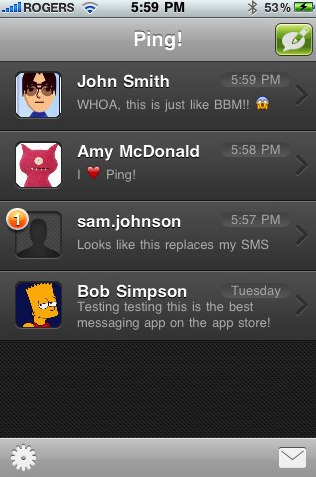 We were just alerted to a new iPhone and iPod touch app called Ping!, which aims to provide free iPhone-to-iPhone (and iPod touch) messaging to users of those devices. We tried it, and thought it was worthy enough to give a shout out to.
Basically, once you download the free Ping! application, you set up a username, and you are set. You can invite others from within the app over email, letting them know your username, and also set up whether you want push notifications or not. Once you start a conversation, it's very similar to SMS…except it's free, and instant. You get the speed of an IM conversation with the persistence of SMS, all at no extra cost. Even better, it works internationally. So you can send and receive messages with people in other countries, and again, at no extra cost.
Go ahead and give Ping! a try, we think you'll like it.
Read More
| Ping! in App Store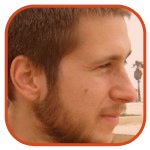 Posted by Brandon Gribin Categories: Lifestyle, Reviews, $1.99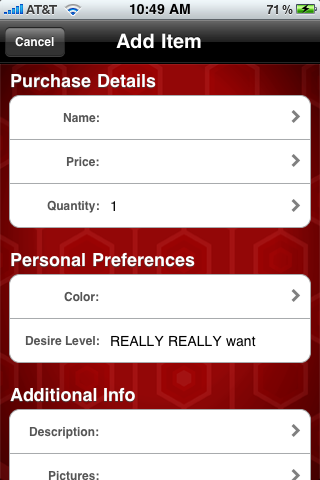 Gifters, currently available for $1.99, lets you create and manage gift lists. If you're patient and comfortable with getting friends and family on-board, this may be for you. To some though, the app may be just a little too cumbersome.
After creating an account - where you're forced to input your physical address, for some odd reason - you're guided through a tutorial by means of several notification windows. Following that, you're free to create and share lists. The app has no gift database though, so when creating lists you have to fill in several information fields all on your own.
Click to continue reading Gifters app review
Read More
| Gifters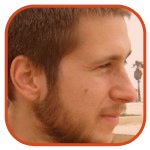 Posted by Brandon Gribin Categories: Entertainment, Photography, Reviews, $1.99
I'm almost certain this is a one-of-a-kind app. It has to be.
Holograms, recently released on the iPhone and iPod touch, allows you to create virtual holograms in a flash.
Click to continue reading Holograms for iPhone Review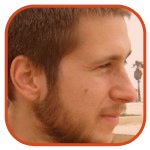 Posted by Brandon Gribin Categories: Games, Reviews, Site Features, $2.99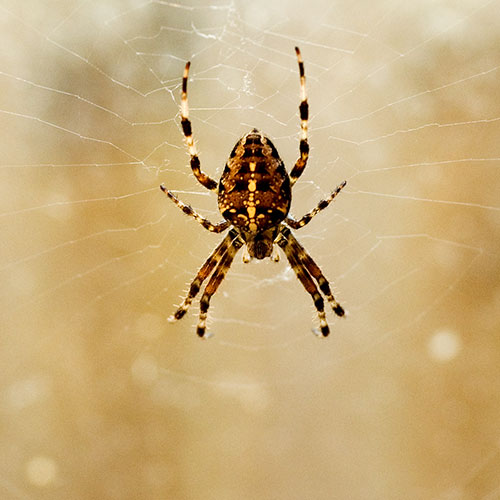 I'd say finding a great game on the App Store can be like finding a needle in a haystack. Well, I've got your needle right here - in one of the best games yet available for the iPhone and iPod touch. Spider: The Secret of Brice Manor.
This came comes highly, highly recommended. Please, go buy it now. It'll be the best $2.99 you've spent in some time.
...
Okay. Now that you've got that taken care of, you probably noticed that the game is over 50 MB, which is larger than average for an iPhone game - I'll tell you more. And hey, if you haven't clicked the BUY APP button yet, I'll still tell you about it.
Click to continue reading Spider: The Secret of Bryce Manor Review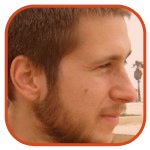 Posted by Brandon Gribin Categories: Games, New Apps, Reviews, $1.99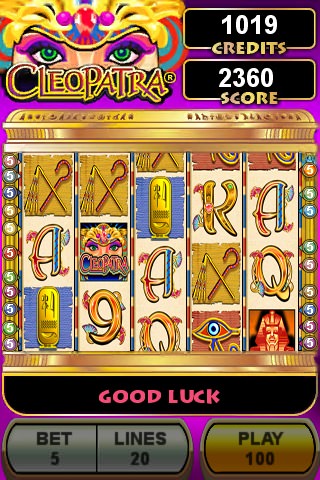 As I see it, there are three types of slots players:
People who sit for hours on end at a single machine
People who pull on a machine once, hoping for a lucky spin, as they stroll by
People who refuse to touch a machine (they just don't know they're slot players yet)
Cleopatra is the perfect iPhone and iPod touch game for the first type of slots player. And possibly a fun diversion for the other two types of players.
IGT, International Game Technology - a slot machine manufacturer, recently released Cleopatra on the iPhone and iPod touch. The app is a portable version of the video slot game that's in casinos all over the world. The iPhone and iPod touch version is a solid rendition and should be up your alley if you're looking for a slots game.
Click to continue reading Cleopatra for iPhone and iPod touch Review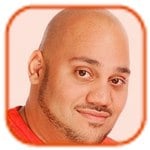 Posted by Andru Edwards Categories: Photography, Social Networking, New Apps, Reviews, $0.99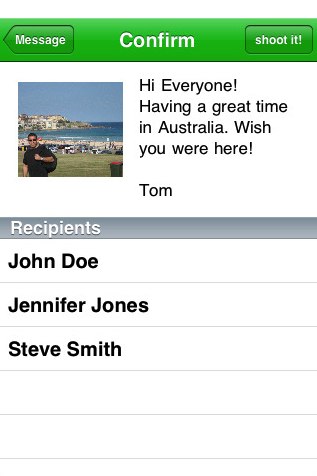 We've been beta testing the Shoot It! app for the past couple of months, and we are excited to let you guys know that it is now available for purchase in the App Store for $0.99. Why the excitement? Well, Shoot It! is one of the apps we use very regularly, and it's one of our favorite apps that we've ever used on the iPhone. So, What is Shoot It?
Shoot It! allows you to send high quality postcards to anyone in your iPhone or iPod touch Address Book, using images in your Camera Roll, or an image that you take from within the app using the iPhone camera. You can send a postcard to as many people as you like, and you also fill in a message that would be printed on the back of the photo. The end result is, as we said, a high quality 4x6 glossy postcard that has the image of your choice on the front, and your message on the back. Since you can send the message to any number of contacts, you end up with the ability to send one message to, say, twenty people, in just a minute or two.
Click to continue reading Shoot It! photo app now available in App Store
Read More
| Shoot It!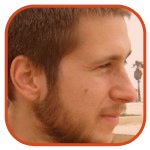 Posted by Brandon Gribin Categories: Games, Reviews, $0.99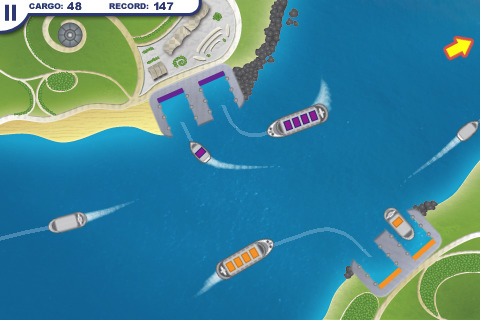 Confession: I'm hooked on Harbor Master. Sure, I've been hooked on a lot of iPhone games over the last year but Harbor Master has something to it that really keeps me constantly coming back for more.
The game's slightly similar to Flight Control - where you're tasked as an Air Traffic Controller and have to land as many planes as you can until they crash. You direct planes by drawing lines - ideally to a runway.
In Harbor Master, rather than directing planes, you're in charge of boats. Rather, boats with cargo. You draw paths for boats to dock - and wait as they unload cargo. After the cargo's unloaded, you direct the boats back off the screen into the mysterious off-screen sea. The game currently has five different levels with a new one promised every two weeks. Each level has a unique twist to it - one features pirates plotting to pillage your plunder, where you use a cannon to fend them off. In another, ships have different colored cargo that must be unloaded at different docks.
Click to continue reading Harbor Master Impressions
Read More
| Harbor Master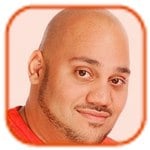 Posted by Andru Edwards Categories: Games, Reviews, Free Apps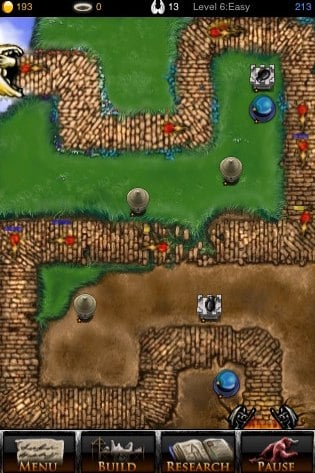 There are a few tower defense games available in the App Store, but we think we've come across the best in TapDefense. Aside from being a free game, it's really well done. The gameplay progresses in difficulty just as you'd expect it to, and developer LL Group even worked in the iPhone accelerometer into the gameplay - not something you find in your typical tower defense game. One of the towers available is an earthquake tower, and when enemies approach it, you shake your iPhone or iPod touch in order to destroy them. Very nice. In all, you've got 42 levels, six tower types, and seven different enemies to combat. And like we said, it's free.
Read More
| TapDefense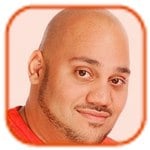 Posted by Andru Edwards Categories: Games, Reviews, Tapulous, $4.99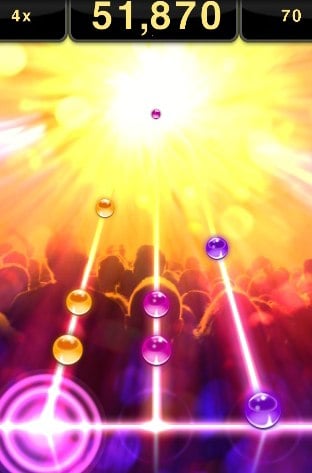 Just a quick not to let you guys know that we think the new Tap Tap Dance iPhone game is fantastic. Tapulous has put out a couple versions of Tap Tap Revenge already, so we didn't think this one would be that big a deal - we figured same game with different music. Plus, we aren't big fans of dance music anyway. However, this game just works. We love the background visuals (of which there are quite a few), the music actually adds a lot to the game (it features tracks by artists like Daft Punk and the Chemical Brothers.) We also like the whole progression system, where you need to meet certain requirements to unlock some of the more advanced tracks and challenges. Overall, very fun. We recommend it. You can pick up Tap Tap Dance in the App Store.
Read More
| Tap Tap Dance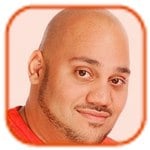 Posted by Andru Edwards Categories: Social Networking, App Updates, Reviews, Tapulous, $3.99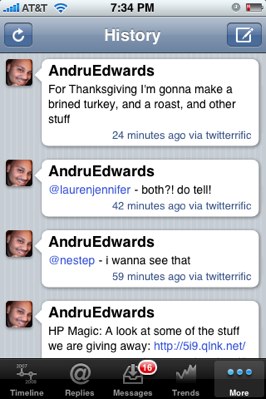 Being the big fans of Twitter that we are here are Gear Live, we are always looking for the best way to interact with the service. We've used apps like Twitteriffic, Twinkle, and Twittelator, but we think we've found one that we will be sticking with for a while. It's called Tweetsville, and it's an app that Tapulous purchased from an independent developer, and then incorporated into their umbrella. Here's the description:
The ultimate dedicated Twitter client for iPhone! Send tweets and direct messages with ease. Check out the latest trends on Twitter and do powerful searches. Favorites, History, Replies… it's all here! Tap on a tweet to reply to the user, send them a message, check out their profile. From their profile, you can also see their history, their favorites, and their friends and followers. See the number of unread direct messages in your inbox right in the tab bar. Supports inline links, bold and italic automatically in tweets by treating words like *this* as bold and like _this_ or /this/ as italic. All of this in a clean, iPhone look and feel with two looks for your tweet lists: balloons and simple.
Since release a couple of weeks ago, the team has already released an update, bringing it to version 1.1. This includes support for international formats and encodings, along with significantly enhanced stability. As I said, we've certainly enjoyed the app, and currently feels it's the best thing available as far as Twitter clients are concerned. The only improvements we are looking for are faster syncing and downloading. Once they get that fixed up, this thing will truly rock. You can pick up Tweetsville on the App Store for $3.99.
Read More
| Tweetsville

© Gear Live Media, LLC. 2007 – User-posted content, unless source is quoted, is licensed under a Creative Commons Public Domain License. Gear Live graphics, logos, designs, page headers, button icons, videos, articles, blogs, forums, scripts and other service names are the trademarks of Gear Live Inc.